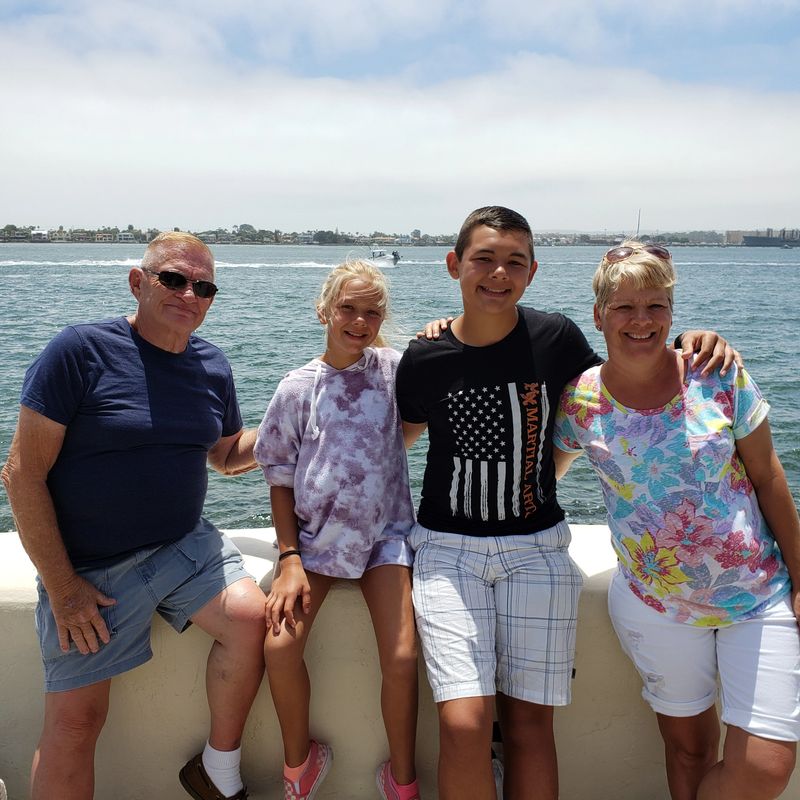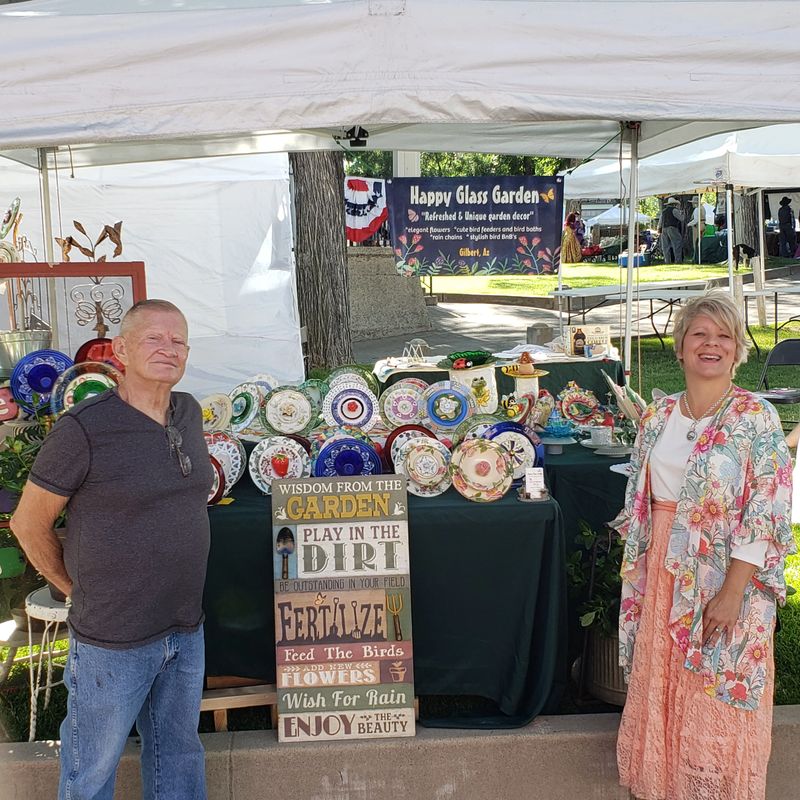 Hello,  I am Ann Marie Keen with my wonderful husband John and our great kiddos. 
We are truly grateful that God has provided us a way to expand 
and 
share our family business with you.
We have met so many wonderful people; like YOU who support and purchase
 our artisan glass garden creations.
I enjoy many things in life; some things I can do without (like scorpions where we live) ha! We love living and raising our kiddos in Arizona, where the weather is HOT, all 4 seasons are close to enjoy with the mountains and the deserts mingling in the valleys; outdoor activities are plentiful, we meet people from all over this great Earth; who choose to settle in to the great Grand Canyon/Copper State of Arizona! Yes, remember it is a "dry heat'!
 I believe we all have the God given potential to be the best we can and to Never, Never, Never give up! 
Thanks Mr. Winston Churchill.
I get great insight  reading the articles published by Harvey MacKay and get wisdom and truth from the Bible.
I grew up in Green Bay, WI., and now more than ever can appreciate the beautiful countrysides and farms of Wisconsin. One of my favorite foods is of course cheese and my parents always are sure to pack the bags with lots of string cheese and curds.
I love my family, like to drink hot coffee all year round; (especially beachside- when we visit Cali.), love our rescue doggies, support small business, enjoy my job,  and love to wear vintage/handmade hair bling! We treasure each moment of time with our kiddos as they grow in knowledge and venture to independence. 
 I brake for thrift/rummage shops(the dustier the better) and I will spend all day looking for all sorts of glassware, knickerknacks, odds and ends of  dishes! My husband, John (who grew up in Terre Haute, IN)... yes we all are from somewhere else...loves his family,likes Classic Cars, loud Mustangs and also a follower of Jesus and getting "good deals" on everything... amongst many other things. 
John told me he always dreamed of owning a flower shop; so he could bring home fresh fragrant bouquets.  
We combined our two passions and started our own family business from the dirt up!
I am the worker-bee who ventured out with my own style, added my passion for eclectic color and  threw in some  fairy dust! Our kiddos get the creative-bug and mix and match dishes for their own flair of flower creations also. I guess it runs in the family.
I have loving appreciation  for the personal childhood memories attached to our flower creations using  family heirloom dishes. My passion is  to create a  "heart-love" memory  for our clients who will  "gasp" in delight when they see an  up-cycled flower creation that they must plant in their garden. 
 Oh, how Grandma would be amazed!  Dishware a-la garden art is en-vogue! 
We know there are many others to choose from, we are grateful you chose Happy Glass Garden.
**COMMENTS from our purchasing  customers**
  ...."I LOVE THIS FLOWER", .... I REMEMBER THIS CHINA PATTERN"... " I LOVE THIS"... "WE HAD THESE PLATES AT GRANDMAS HOUSE"...etc.... to "I want to buy this....It's a perfect GIFT"! 
 I am so grateful for the support of my husband John,  who is the Gilbert Picker, "CEO of  Dish Washing" and sorter for our abundance of raw materials that he rescues and salvages on a continual basis. 
** We do custom orders with your family heirloom items ** 
Let us create an intimate and memorable garden item for your home **
We are always

in need of raw material

. If you have items/collections you would like to donate/sell/offer; Contact us.
Be Inspired - Be Original
Happy Glass Garden 
John & Ann Marie Keen
Gilbert, Arizona
For it is by grace you have been saved through faith. 
And this is not your own doing; it is the gift of God, not a result of works, 
so that no one may boast. Eph. 2:8-10 (ESV)
                               <><><><><><><><><><><><><><><><><><><><><><><><><><><><><><><><><><><>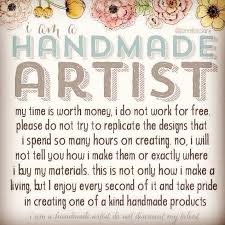 <><><><><><><><><><><><><><><><><><><><><><><><><><><><><><><><>
We appreciate you respecting and appreciating the many hours of time, labor and the many improvements we make to give you a superior quality garden item. Replication happens, but please respect what we have done to find the best ways to make our flowers different.  Copy-cat Cathy, "lazy-Susans", "Get it for Free Freddies", "Just Askin Joe's" are not appreciated and we would hope you can be kind and find your inner creativity and re-work your "art" from the ground up! We all have potential, just be an original as God has created us all unique with no duplication. Thank you for your understanding... 
*** The above information has been created by the owners of HGG- please respect our work and do not duplicate data***